Getting Rid of Cucumber Beetles Organically
by Maureen Wise, on April 29, 2021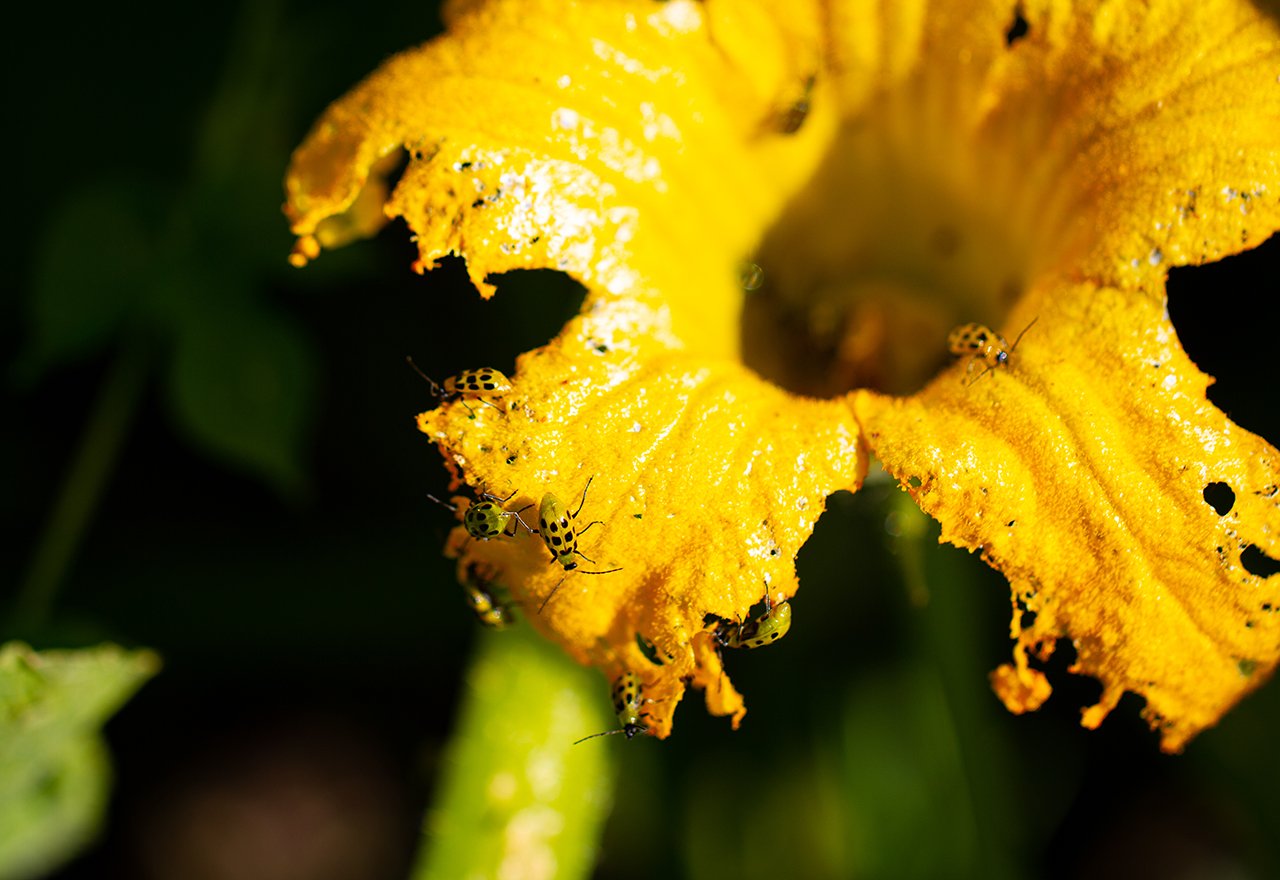 Cucumbers are a vegetable of choice for many Midwestern gardeners. They are relatively easy to grow and cucumbers are a family favorite, eaten on their own with just a few seasonings, in salads, or preserved by pickling.
However, if you are a cucumber gardener and your plants aren't thriving, it's likely you have a beetle problem. Cucumber beetles are hard to get rid of, but there are many organic methods to stop the destruction they inflict on your crop.
Cucumber Beetles and their Lifecycle
There are six species of cucumber beetles in the United States, but only the striped cucumber beetle (Acalymma vittatum) and the spotted cucumber beetle (Diabrotica undecimpunctata) are active in Ohio and Indiana. The striped cucumber beetle causes more damage and is about one fifth of an inch long with yellow to green and black stripes the entire length of its wing covers. The insect has a black head and yellow to green thorax. Its spotted partner in crime is larger at one third of an inch long. Its body and thorax are green-yellow with 12 black spots on its wing covers. The head is black. The larval stage of this spotted beetle is known as the southern corn rootworm that eats (you guessed it!) the roots of corn plants. Together, these two species are usually called diabroticine or diabroticiite beetles.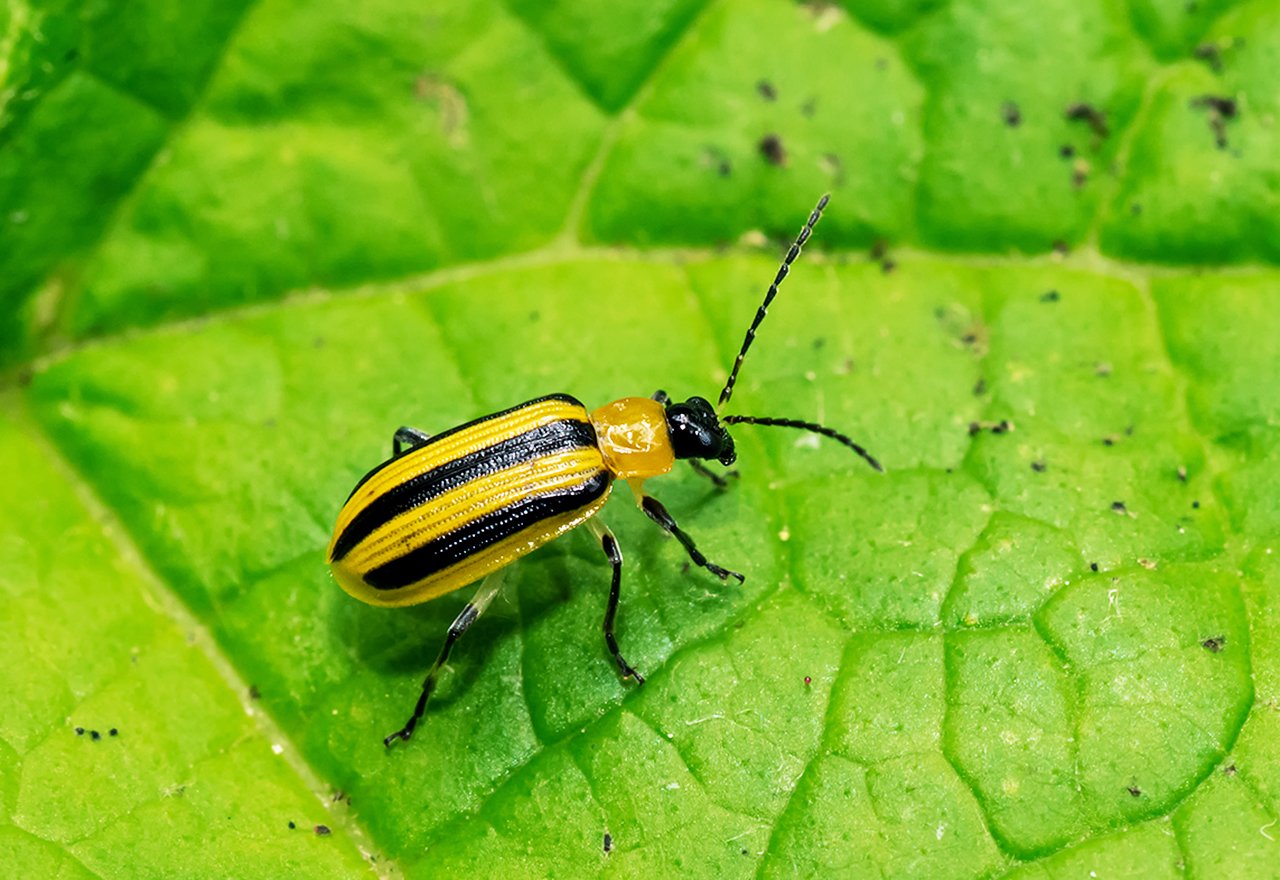 Cucumber beetles spend the Winter as adults in plant debris, frequently dead cucumber plant debris, but also leaf litter in gardens or forests. They will not move far from their initial garden home to hibernate, usually less than a mile. Only during the late Winter and Spring, will the insects move from their overwinter home to find pollen, petals, and leaves of early Spring blooming plants to eat.
Female striped cucumber beetles lay their eggs in clusters at the base of plants or sometimes cracks in the soil. The spotted females lay their eggs in the roots of corn and grasses. The spotted cucumber beetle only lays 200 to 300 eggs over several weeks while the striped cucumber beetle can lay up to 1,500 in the same time. Spotted cucumber beetle larvae feed on multiple host plants, unlike the striped cucumber beetle. Both cucumber beetle larvae grow and feed in soil for two to six weeks, damaging their host plants. They both pupate in the soil for four to seven days (damaging roots more) and then emerge as adults. Adults of both insects can live up to 60 days.
The striped cucumber beetle can produce one or two new generations per growing season while the spotted beetle can create up to three generations.
Both the striped and spotted beetles can overwinter in Ohio, but the striped beetle survives cold Ohio and Indiana Winters much better than the spotted. The spotted beetle may migrate from southern states into Ohio and Indiana in June and July as they are strong fliers. The striped cucumber beetle prefers cucumber and similar plants above any other while the spotted beetle is less picky.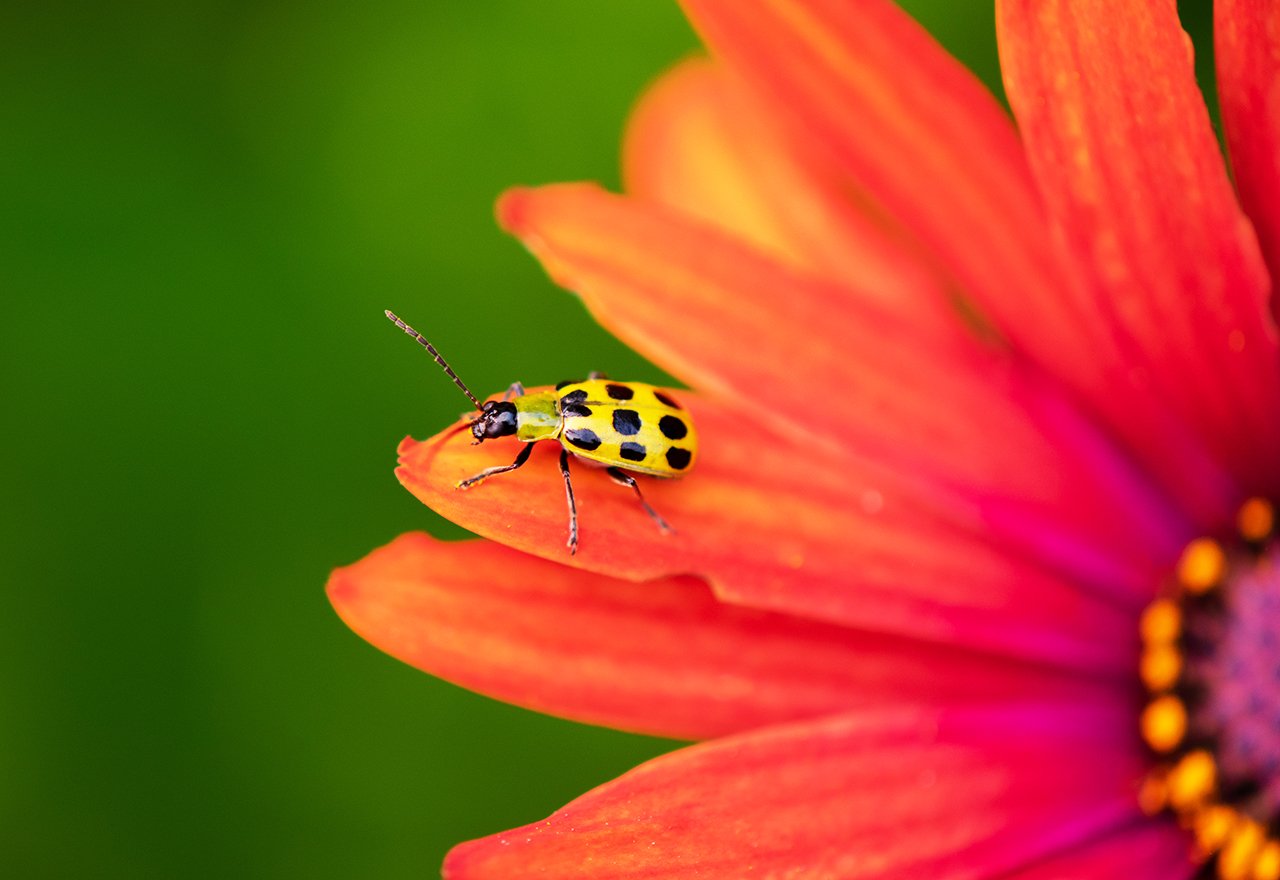 Cucumber Beetle Damage
Adults of both species eat both stems and leaves of cucumber plants in the Spring. Later in the Summer, adults will also eat cucumber flowers and small cucumbers themselves.
Larvae and pupae of striped cucumber beetles damage cucumber plant roots which causes the entire plant to wilt and weaken. Larvae will also eat the rinds of cucumbers that are in contact with the soil.
In addition to the direct damage they inflict to plants, cucumber beetles also transmit bacterial wilt and squash mosaic virus. Their overall damage also increases the likelihood that your plants will get powdery mildew, black rot, and fusarium wilt. Younger plants are more likely to be damaged than established plants.
These same beetles will also attack other cucurbit plants growing in your garden such as squash, zucchini, pumpkin, watermelon, and other gourds.
How to Manage Cucumber Beetles
There are many proven ways to combat cucumber beetles. Using multiple methods in tandem is recommended to disturb the insect's life cycle and habits as much as possible.
First, clean out and till the garden early, well before planting. As stated previously, the adults overwinter in the leaf litter and debris in gardens. Soak the soil with Spinosad after cleanup to kill any beetles that remain. We sell and recommend Captain Jack's Deadbug Brew.
Plant mature plants in June, not seedlings in May. Allowing cucumber plants to mature in a controlled, indoor environment will give them a better chance of survival. Additionally, keep the beetles guessing by rotating cucumbers to a different location within your garden. Apply Surround Kaolin Clay Crop Protectant just after you transplant the cucumbers and make sure to spray under the leaves. We recommend reapplication after heavy rain.
Don't plant all your cucumbers together as a monoculture that can be wiped out easily. Disperse cucumbers and other cucurbits among your other plants. It has been found that cucumbers planted within corn, watermelon, radishes, and broccoli had much less beetle damage as well as less bacterial root disease.
Add compost in your garden soil as well as on top of the soil to improve the overall health of your plants and soil. We recommend and sell grow by tilth, which is made from compost collected and created locally in Northeast Ohio by Rust Belt Riders.
Additionally, you may want to attract some natural predators to your garden to eat the beetles and their larvae. Since the adult beetles are rather large with a hard shell, not many insects eat them beyond wolf spiders (we know they are creepy!). Add straw mulch around your cucumbers on top of the compost. This will make it slightly harder for beetles to move around from plant to plant and will attract wolf spiders. Harvestmen (aka daddy long legs), ground and rove beetles, smaller spiders and predatory mites all eat the larvae. To attract these bugs, you can try our Predalure and avoid pesticides in general. These insects also live among and eat straw mulch. Additionally, straw mulch will create a barrier for larval migration.
If none of this works, you may also try to add sticky traps around your cucumbers along with reflective plastic weed block. These are both proven methods to deter the beetles but also deter other insects. Diatomaceous Earth is another organic insect deterrent that you can spread around your plants starting immediately after planting and reapply when it rains. We recommend and sell Bonide Diatomaceous Earth. Don't directly apply Diatomaceous Earth to plants when they are flowering. Like the traps and weed block, Diatomaceous Earth will deter predator insects (but is earthworm friendly).